What are tea light candles used for? Explained
Introduction
The use of tea-light candles has been one of those among the rages recently ever since the knowledge of its uses or decorative aspect of sustainability was passed across. Well, any aspect can only be applied once we understand the idea behind it. Let's understand enough about the uses and types of tea-light candles so you can spruce up your house and mood with them.
What are tea light candles?
The general idea of a tea-light candle is wax filled in cylindrical or disc-shaped metal or plastic cases to burn for a relatively short period of time. The presence of these tea-light candles creates soft, ambient lighting if placed in the right places. Lately, it is quite evident that these tea-light candles are being juggled through some decorative holders or fixtures like lanterns and hurricanes that amp up the atmosphere of the house to a serene abode.
7 different uses of tea light candles
Well, let's understand the uses and types of tea-light candles and also the holders that promise such, that emanate the atmosphere at home.
1.AMBIENT LIGHTING
Ambient lighting is the foundation for the general lumination of a room. Tea-light candles in perfect decorative holders, lanterns, or votive fixtures create a cozy and intimate atmosphere. The ambient light enhances the sense of warmth and depth in the space where it emanates across the room. Their gentle flicker adds an extra touch to the occasion based on the fixtures the tea-light candles fit into. Choosing the right kind of holder can count as a decor element.
Well, try these set-ups to be a source that channels the ambient lighting in your home. 
This translucent antique tea-light set is a perfect set to create an ambient lighting effect in the room where it is lit. This mosaic glass piece with a blue and gold finish sets the room's atmosphere warm in the early morning and late evenings. A flicker can be dull still emanating light but this set with an antique design gives an ambient look as it consumes the glow to distribute the same.
Brass-plated Tea Light Set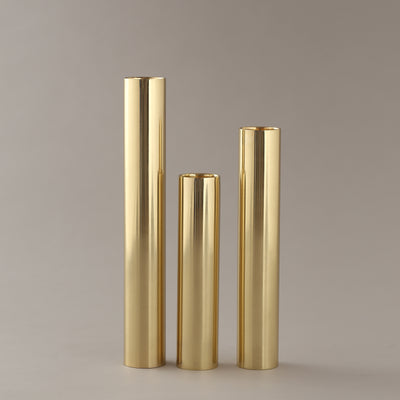 Another ambient tea-light set that can also be an emergency one is this sleek yet well-cylindrical with a brass finish to append a striking addition to the home decor apart from its character of lighting up the ambiance with a gentle and small flicker. Separate them and place each the either side of the room on different platforms or heights to add vibrancy. 
2.AROMATHERAPY
It is a known practice of having a set of tea-light candles in certain holders or fixtures promoting a holistic practice of emotional well-being. Ceramic, glass, or metal holders are ideal for holding the mixture of certain oils with wax to practice such therapies, which give a soothing, calming, and fragrant ambiance. When such blended wax is fixed in the holders, the lit candle burns and warms the oil to cause evaporation and dispersion into the air promoting relaxation, and stress reduction.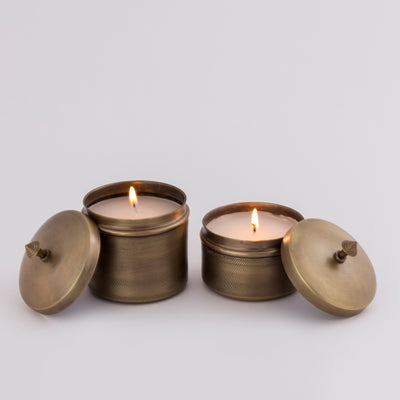 This tea-light set has an aluminum body with an antique brass plated finish giving a crisp and mesmerising feeling. Along proferring a vintage look to the space, the quality and the structure of these metal set takes in the blend of the wax and essential aromatic oils with no default infested to the mix even for a long time. A popular opinion and a fact says that metal votives or holders are best if one practices a ritual of aromatherapy.
3.CENTERPIECE
There are certain holders and fixtures to hold the tea-light candles that can pose and act as a centerpiece in any room serving a great purpose. Arranging them in a decorative format on a table blended with distinct accessories that can draw the light and reflect accordingly can be a focal attractive point. The soft emanating light can enhance the overall aesthetics adding elegance to your dining table, coffee table, or mantle which surely attracts visitors. This centerpiece lighting can help you finish your work, read a book, or a perfect dinner set-up piece that sets the mood and spirit high and socializing. 
Nickel Plated Iron Tea Light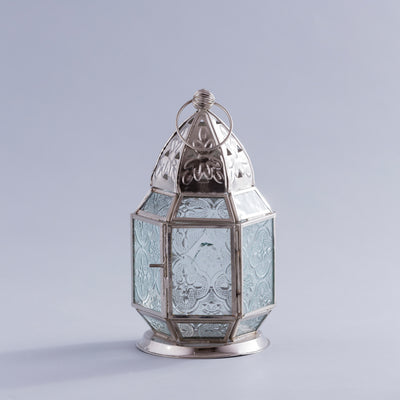 Seems like an awesome lot of a castle part has been compressed to this size only to fix a candle in it. This tea-light holder has some best materials in its structure, made of shiny iron with a silver and nickel finish that has a reflecting potential with the thick yet translucent glass walls covering the flicker. The polygon-shaped tea-light candle holder emanates light all over the room as a centerpiece and an impeccable moveable piece around to flood a decent light.
4.OUTDOOR LIGHTING
To set up warm and gentle illumination for a cozy and inviting mood for gatherings, garden or lawn parties, or quiet moments of romantic or intimate dinners, surely we need some strong holders. The strong tea-light holders can be in the form of lanterns and hurricane formats to bring an aesthetic look and illuminate the outdoors.
The best hurricane kind of holder for a tea-light candle to amp up the lawn, balconies, or gardens with light. The structure of the holder gives an idea of ruggedness with a strong stance. A definite piece of beholding attraction, a radical design to hold the light into the home at the entrance, or lays a path to the lawn or garden. A perfect mix of style and substance emanating light.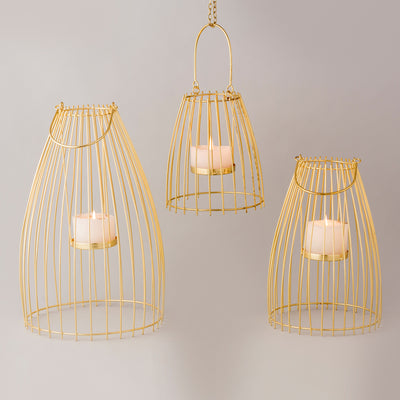 This is a delightful set of tea-light candle holders in a hurricane format. This dangling set is of iron with a brass-plated finish with a refreshing look to offer. Along with creating a splendid aura around the place, this set can serve as an excellent decor piece with a stunning effect on the outdoor surroundings.
5.LUMINARIES
Some holders of tea lights can be creative to call justify the name called 'luminaries'. Luminaries are a set of accessories to set a path or spread the light as a gentle flood of light has unleashed. One can be more creative with the past clinked glasses and glass bottles using now as covers over the tea-light candles to distribute the light to all sides equally even emanating the hues of the glass if any. Cutting patterns or shapes into containers, and then infusing the candles is a pretty creative show-off that is worth presenting. Cast enchanting patterns of light and shadows to transform any place into art.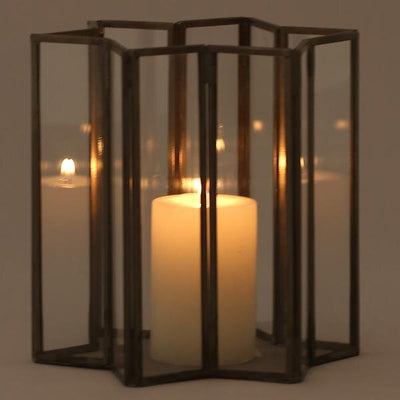 No toll to endure any creative exhaustion of making one as said above, but here we have a perfect tea-light candle to be called a luminary. The design and the shape of the set say all that this piece doesn't shy off from being an emanating one. The untainted clean glass walls design is a simple light spreading one rather than a vibrant designed one that stays as a beautiful obstacle. One of the best pieces to vouch for.
6.BATH CANDLES
Incorporating a bath candle set is an elegant and practical choice in the bathroom as the quality of the bath-lit tea candles sets an undeniably soothing and immersing experience in a warm bath after a long, stressful day. Various tea holders in distinct designs are available that can set the aesthetics of a bathroom. These are decent additions to complement the idea of a well-quality lifestyle and sophistication. It's a well-thought-out and decent cathartic cleansing experience that beholds the spirit in tranquility and rejuvenation.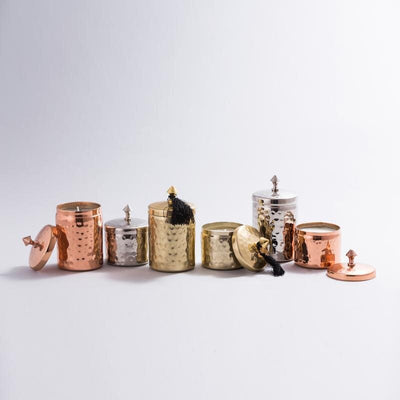 These aluminum votives of copper-nickel-brass finish are a valuable addition to your bathroom accessories, where the inclusion of such also infuses warm and inviting ambiance making the bath time relaxing and enjoyable. These help bounce the light across the room and if these are filled with aromatic oils can add a soothing effect that creates a positive attitude lingering for long moments. The colors and finish of this set could be customized to any bathroom. Place them around your bathtub, or on a mantle to benefit more of it.
7.ACCENT LIGHTING
Tea lights are used for accent lighting based on the holders to infuse warmth and transform ordinary spaces into extraordinary places. There is a thumb rule to define 'if the light is 3 times the intensity of the ambient set-up on a particular object or an area, then is called accent lighting effect'. So the holders should be spacious enough and the light dispensing layers of the holders needed to be transparent or translucent to flood the space with the reflections from a corner. These accent lighting at the doorways or specific featured locations create dramatic effects. 
We are aware of the knowledge that accent lighting means to light and highlight an object or a particular place in the room, so let's apply the antique tea light set made of high-quality steel with a bronze finish. Place it next to the shelves holding any art pieces or on the coffee table to highlight the whole table or make use of the dangling hooks to suspend a couple of them over any item or to the corners of the room so the light can be distributed to the either side of the wall to beautify your home.
Conclusion
 Go through what these tiny sources of light can do to enhance the ambiance of your living, dining, bedroom, or lawn areas. From highlighting an object to gently channeling the light at the doorways or garden areas with creative holders and fixtures will definitely make every moment glowing and special.
FAQs:
1.What is the difference between a tea light candle and a regular candle?
Tea light candles are easier to use as these are small and also come in metal or glass cases than regular which are mostly monotonous in shape and structure. The tea-light candles whether encased or not are more adaptable with a variety of holders or other fixtures. 
2.Can tea light candles heat a room?
On a general understanding, tea-light candles can infuse a bit of warmth and secure feeling into the room. But a considerable number of tea-light candles and the holders or fixtures shall be the basis of heating a room.
3.Are tea candles safe to burn?
The promise of safety is based on the type of wax that is being used. Soy, coconut, or beeswax are the best and safest to use in the tea lights with less soot.