Look at the top home garden accessories you need
Introduction
What can heal better than the nature of lush and green oozing life, and bringing it into the house as home gardening is an art and science that everyone should adapt and practice. Home gardening nurtures positivity and reduces stress levels. A well-equipped or designed home garden with relevant accessories adds an element of nature and gives a therapeutic feel at home. This is often called a low-intensity activity at home, but apart from this, it keeps the mental balance in check and inculcates the responsibility in people to understand and contribute to the safeguarding of the environment apart from the idea of just a decor. 
Let's look at some of the home garden decor ideas and accessories.
Stylish Home Garden decor ideas
Plan where to add decor with these garden accessories.

Selecting the types of plants first to add to these planters is always a good idea. Well, selecting the garden accessories of vibrancy and style and later selecting plants also works, but the former ones have more merits.

Do not think of home gardening only for the sake of decorating in the process of designing the house or rooms.

Be planned as home gardening also includes maintenance.

Take an opinion and instructions from the nursery staff from where you buy the plants to understand whether the home environment suits the plants.

Affix the entrances and doorways with planters, railing planters, or hanging vases to give a warm and fresh look.

If you have a balcony-like backyard, do not overstuff the place with too many plants or creepers. Bring distinction amongst them, and place them on benches or mantles of different heights to separate and keep them for better display.

In the living room add a vase to the wall with exotic twigs and flowers with long stems that act like wall decor.

Change the flowers, twigs, shrubs, succulent plants, and others in a vase placed on a coffee table or in the wall racks to present the evolution of home gardening.

Try to incorporate the styles that seasonal to provide a refreshing feel.

Add snake plants or similar types in your bedroom corners to have a nice and calm look.

Try with your patience and juggle with the home garden accessories.
14 Best Home Garden Accessories
Here are the best home garden accessories of different formats that suit your taste and space: 
Planters 
Planters come in different formats and styles are medium-range flower pots or boxes to grow plants. These are mostly indoor types adapted into the rooms, balcony backyards, and lawns to cultivate and display plants.
GALVANIZED IRON PLANTER TRAYS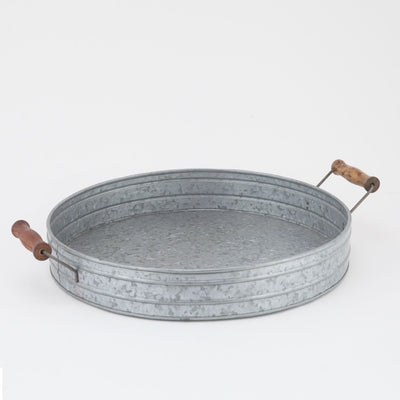 An excerpt from the subject botany 'Zinc is an essential plant micronutrient and a normal part of the soil to enhance plant life'. Here is the galvanized tray that is rich in rust-preventing zinc coating that adds to the nutrients of the soil. Galvanized planters are considered to be excellent gardening accessories. But here is a tray that is well-adaptable to the indoor environment. Considerable scoops of organic soil and indoor plants like shrubs, twigs, and small succulent plants that blossom flowers of different colors filled tray shall make great decor that oozes life and color on a drawing table or table of apt size with work distributed around.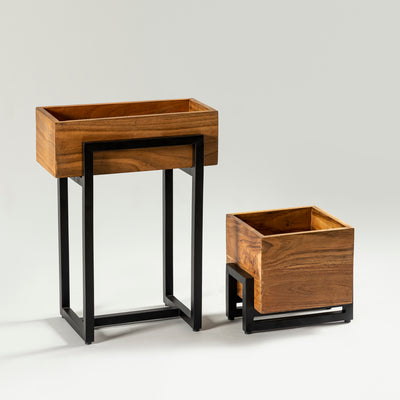 Growing plants in a wooden planter is a sight to marvel at with peace, as 'nature finds its place and grows within the subset of itself'. These planters are made of natural mango and the base is designed beautifully with rust-free iron. Though made of wood, the planters are devoid of any abrasive impacts due to fine polishing. These twins of different dimensional planters can fit in any part of the room. Fill it with soil and sow plants of different types in each planter adding color to the environment like a single tree, bushes, giant daisies, or any other meadow plant to add class and elegance to the room.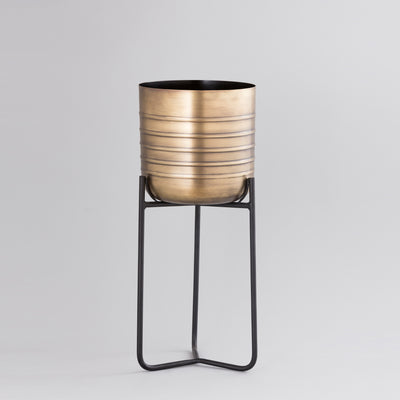 An elegant and modern planter is more of a container and less of a pot. The appeal of this planter holds a focal point also based on the type of plant that grows in this. This is a brass made with a hue of silver finish that fits in any room, lawn, or balcony that falls within the roof of the house if left any space around presenting an urban look. Fix these planters with snake, spider, ZZ, dracaena, and other plants to add more depth to the room and environment. Since the planter is brass-made, it has a striking aura of transforming the room into a haven of calm sophistication.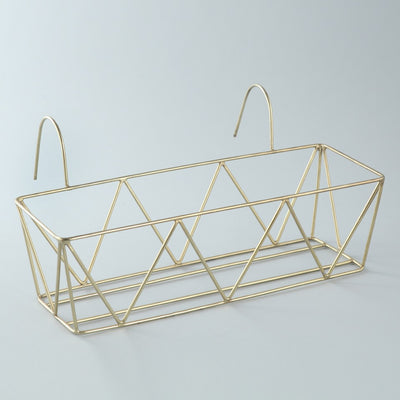 Apart from the creepers and crawlers beautifully and gracefully blending with the architecture of the house, some planters let some shrubs and other similar plants gracefully mount on the walls indoors blending or adding calm and elevation of the spirit. These planters are called railing planters and can be placed at the endpoints of stairways, suspended from the edges of balcony walls, and in many other ways. The flexibility of these railing planters lights the mood and gives a natural ambiance adapting to the confinement or place. Add the plants that have branches protruding from all sides or stuff this planter with a couple of different flowers or shrubs in colored cups to amp up the look.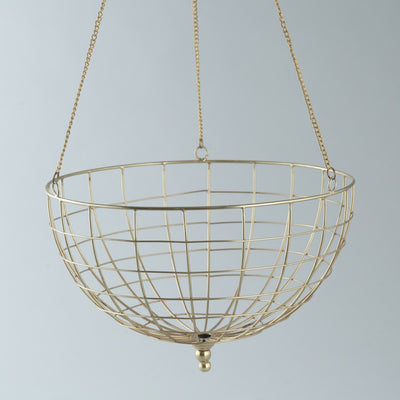 A strong, round, and sturdy hanging planter with creepers and hanging flowers at the doorway or hallway entrance makes a huge impact. This garden accessory with the copper finish is best suited anywhere either on the lawn just a little distant from the doorway entrance or indoors suspended from small hooks at an average height to reach. It is trendy and easy to mount with a variety of plants like Petunias, Bacopa, Lobelia, Calibrachoa, and many others to bring in the effervescent look like a flower basket or bouquet ready to pluck off. Get a couple of these to add an aesthetic touch to the house.
Carrying the office or professional work home? It's okay for those who work from home, but it's hard for those who carry work to home and be at it with the same determination. It is then a lot of issues that need to be fixed in an at-office way, like creating or replicating the ambiance up to an extent. One of those issues can be fixed by these large-standing planters with a blend of steel and nickel with a gold coating finish. These are of corporate design with a level of architectural and geometrical precision to them. Plant some long twigs, lanky-leaved, or upright structured plants to bring in the office look.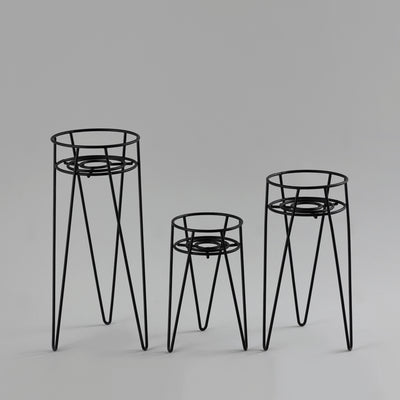 If you are living or residing in a house that has a considerably smaller distance from the gate to the main doorway of the house, and the way is of stone laid with the smooth well-pruned spread of grass either way, then this set of planters can fill that way with life infusing varieties of plants. Fix these with hanging plants, thick creepers, or flowery succulent plants to give a warm welcoming look. A couple of these planters on either side along the way can elevate the frontier of the house. These are made of iron with a matte black finish that is resistant and anti-corrosive promising durability.
Vases
Usually made of glass, pottery, or metals, they are used to hold cut flowers, small creepers, or twigs of different heights and sizes based on the structure of vases. These are indoor accessories with a natural look that adds to the room's decor.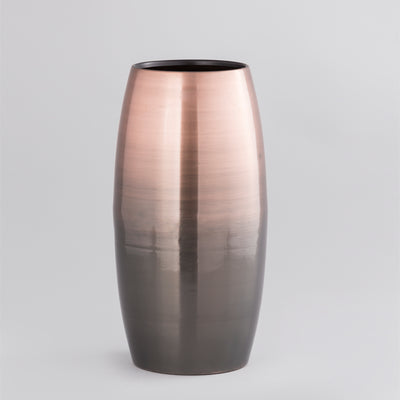 The look is like a landscape photo that has been laminated on the outer contours of the vase. The look itself will have an impact on the room or the corner where it is placed. The black and gold finish is sure to create a vintage yet modern look. Stuff this with long twigs of different hues complementing the rustic look of the vase and adding a primal look. Or placing some long-stemmed lilies called Giant Orienpet that are usually 3-4 feet height brings the natural look. A little distance to the corner and if placed against the wall of mild layer highlights this home garden accessory.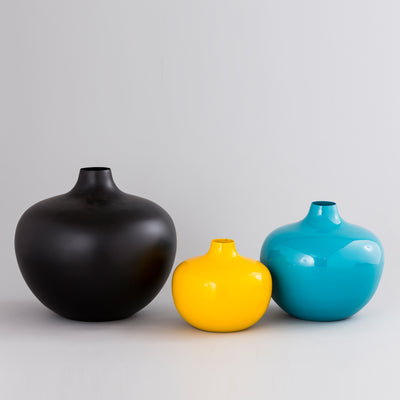 Adding color to the home decor or equipment brings a vibrance of positivity. Well, let's spread colors along with the life through or planted in them. These vases are made of iron material with matt black, yellow, and aqua-blue colors that soon blend with green-colored plants and flowers of distinct shapes and hues. If your living room wall is well-equipped or designed with step-by-step mantles or unparallel mantles, then these colored pots or vases shall pop up giving the essence of the natural beauty. Place these on your coffee, drawing, or dining table for a calming effect. This home gardening decor set is amendable with any room in the house.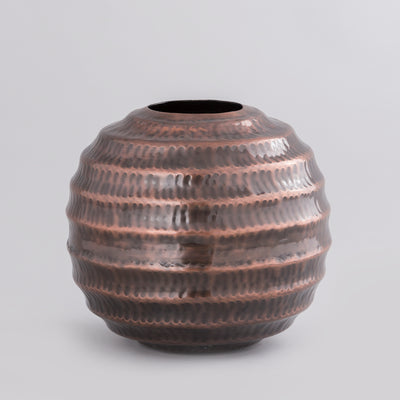 Any accessory that deserves a separate side table to present its effective stance in the living room would be this vase. This vase is made of aluminum with a Bronze bronze-plated finish. The circular shape with patterned design makes this to add a sophisticated feel to the home. This round vase gives a raw and antique look, and that look can be mellowed by adding a plant that blossoms with some warm or mild colors that are in contrast to the color of the vase. Place this home garden accessory in the living room and change the type of flowers or plants now and then to offer a different look.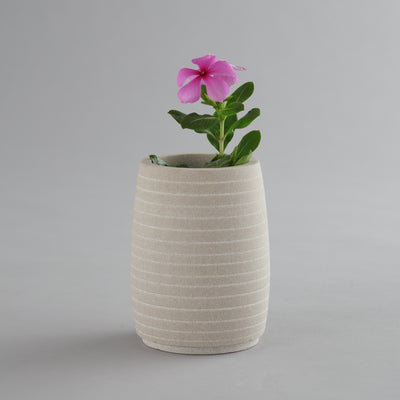 The name itself suggests that this is a modern home garden accessory. This piece is modern only in its design and minimalistic approach, but this pot is made of white stone that forms part of the earth. The exterior thin-paneled design and the interior of some depth support small plants that blossom quickly. Any flower of any hue can be fixed with this. Being light colored, it suits any coffee table or any couple or more of these contributing a refreshing look on a widespread mantle. Place it next to any or in any rack or shelf with some limelight of recognition falling onto it, creates a positive impact though small in size.
Garden stake
It is a pointed rod or a metal cane that supports the plant or tree from bending out of shape as it grows. Here are some of the best-designed garden stakes that support the plants adding a distinct look to the plants.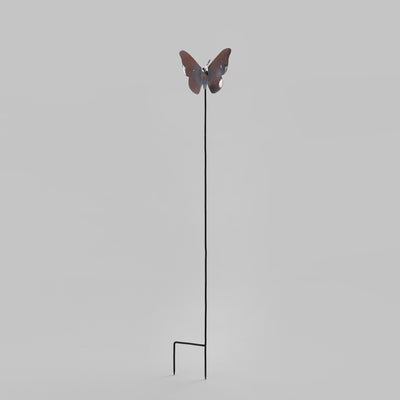 Add a butterfly-shaped iron stake to the plants amongst the varieties of plants where the design of the stake is well-equipped with transparent beads of different shapes. The look-through design only presents the greenery and colors of different flowers in the background.  A small or minute feel and effects like these make the process of home gardening more personal and beautiful.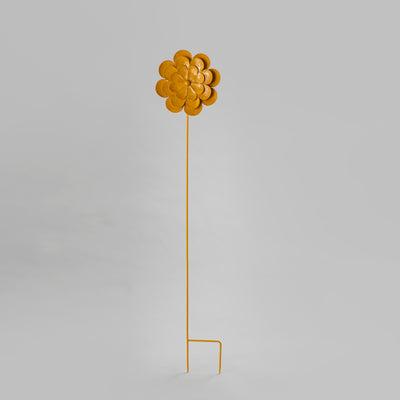 Add this floral-type stake resembling an artificial sunflower that shall reflect the sunlight to an extent due to its smooth polished shiny floral finish. Use this floral stake amongst the flower plants to pose as a representative of the floral garden at home.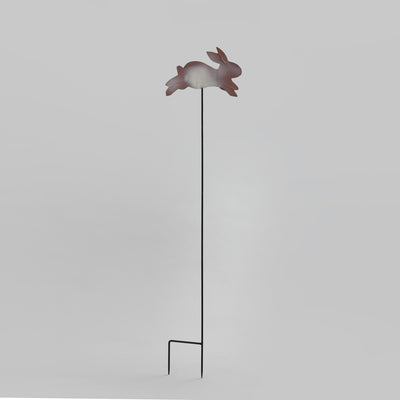 Add a little playfulness to your home garden with this rabbit stake. Adding such a little breeze of playful accessories will surely increase the interest in gardening. If the gardening includes any veggies or fruits, adding this rabbit stake to any plant presents a short story to rejoice in the process of home gardening.
Conclusion
Go through the garden accessories thoroughly and add these to bring the elements of nature and life into your home.