20 Small kitchen decor ideas in 2023
Introduction
It is an undeniable fact that the kitchen is the most functional room in the whole house. Apart from cooking mastery, skills, and interest in dishing out new recipes, patience and a calm mind are the facts that are often not discussed. Most functional room needs the right environment that is set by certain tools and decor that complement the diligence that goes into the art of such activities. Rather than a major transition, there is a need to make small changes with small ideas that pile up for the good.
Let's look at some of the small decor ideas that make your kitchen functional and impactful.
20 small kitchen decor ideas for your cooking space
1. Tropical Round Tray
Any serving item should be a mandatory accessory in the kitchen for its unique way of service. A serving tray with such a unique design of tropical aspects of blue interiors imprinted with a tinge of exotic leaves finished with a beautifully wired rope is a must. A mild in color yet a bit sophisticated in physical design is both a functional and stylistic choice to set amongst others. When not directly boastingly serving its purpose on the dining table, it can be an indirect choice to hold certain minuscule tools besides the cooking apparatus.
2. Square Wood Iron Canister Set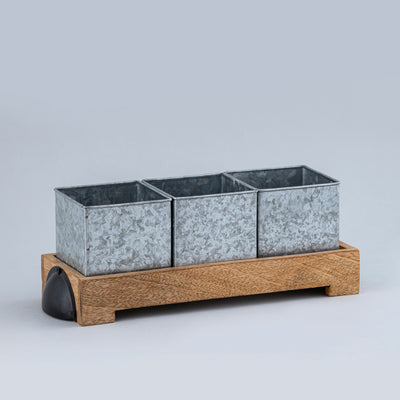 A rustic addition looks adorable in your kitchen as these triplets hold together in storing tools though made of galvanized metal and wood. This multipurpose set holds tools for the moment and also stores eatables to munch on during cooking. A quick attention-grabbing subtle countryside add-on amongst the other mild glassware kitchen equipment. This piece sure fits in your shelf or cooking mantle like the look and design fit your taste.
3. Copper & Glass Canister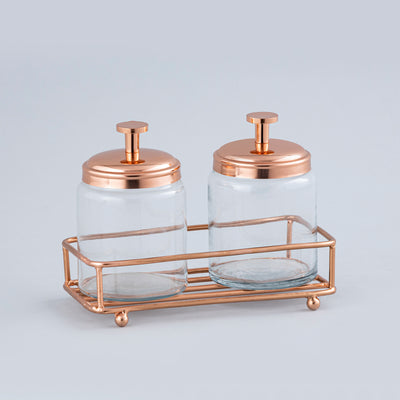 This decent canister set has its own way to it with a simple design yet a certain specialization is given to have its own seclusion from others providing a separate platform. Keep this set beside the cooking apparatus with the ingredients that are staples to blend in with your daily food like pulses, spices, and others to avoid reaching shelves unnecessarily. Made of smooth glass with an iron stand and stainless copper lids finish is a classic addition to make your kitchen more beautiful.
4. Square Marble Coasters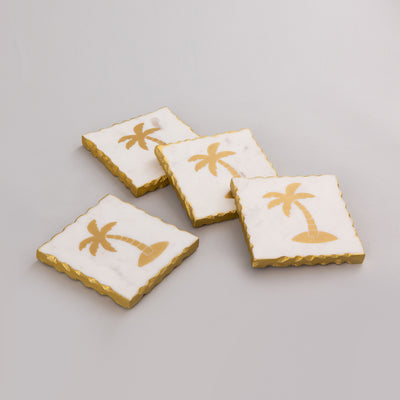 A common attestation to the conventional notion that these belong on the dining or coffee tables can be dismissed if a little observation is pushed into the thought. Remember a recipe you have tried that required your attention and presence in the kitchen throughout and you were topping some energy sips, well, where do you keep them on, definitely not wanting to leave any stain rings on the kitchen platforms. That is when these come into play, handcrafted marble coasters with screen-printed golden-bordered coasters are both a functional and elegant minute addition to the kitchen decor.
5. Round-Shaped Wooden Bowl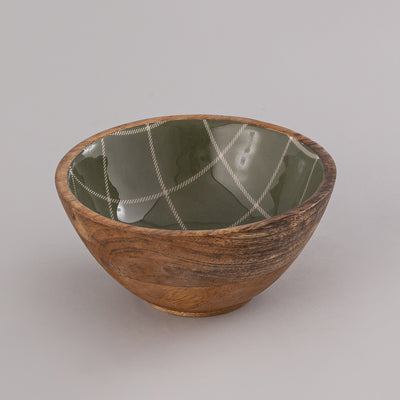 A special recipe needs special hands and such demands certain tools in preparing. Another indispensable item to have in your kitchen is a bowl but of thickness with weight like the one here. Soaking some pulses, a kneaded dough, and a lot more to keep on the side while the simmer is on. Accessories like these always meant to be on a serving table is itself a thought of dismissing the fact that the actual serving starts from the kitchen itself. So, this is a handmade natural wood that is purposeful yet a filler amongst other kitchen decor with its beautifully distressed finish.
6. Large Pier Tea Light
A wonderful and delightful addition to any room shall be a tea light diffusing ambient light into the atmosphere. It's how you use it for a particular moment is the way to decipher multiple ways of importance. While a recipe takes time with a simmer on for a while and your presence is unwanted, don't put on the tube but light up a votive like this as a sense of reminder and security. This pier-shaped nickel-plated set adds relevancy as the fruit shape matches the essence of a kitchen room.
7. Powder-Coated Pendant Light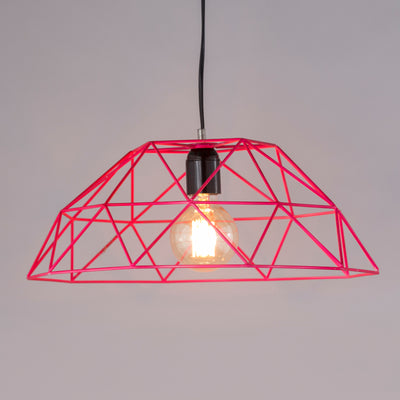 If your kitchen is comparatively small and equipped with wall-mounted shelves that have the quality of bouncing light and a wide horizontal tube is just an overwhelming light source to such space, a subtle addition of a hanging light makes more sense. The luxurious design helps in diffusing light about the room and the color works against the kitchen if the atmosphere is mild colored so as to hold its distinctness.
8. Elegant Flower Vase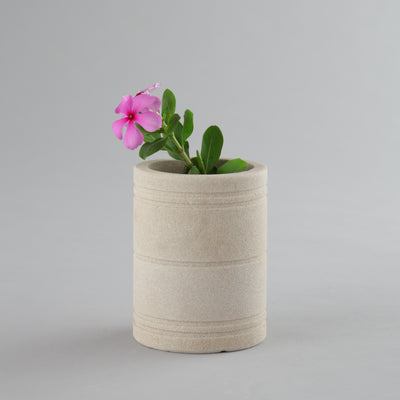 A breath of fresh air and a glimpse of fresh and distinct colors to be brought into the kitchen space is no radical thought, but a choice to present that in different shapes. Such is the shape of this mono-look flower vase made of stone that is visually appealing. Natural elements like these with such shapes and sizes can fit any contours of the kitchen, while some ideations like growing some herbs related to cooking shall be flexible.
9. Paper Roll Holders
A cast-out tool by many and only to be seen in a bathroom is a paper holder. These holders not only hold basic toiletry papers but also tissues that come in handy while cooking in the kitchen. A quick wipe to clean hands dry to move on with other tools is necessary to have a better grip, and soaking some crispy snacks before serving. This contemporary functional item is made of iron with matte black and presents a sleek and peculiar look amongst the other kitchen decor.
10. Wooden Table Organizers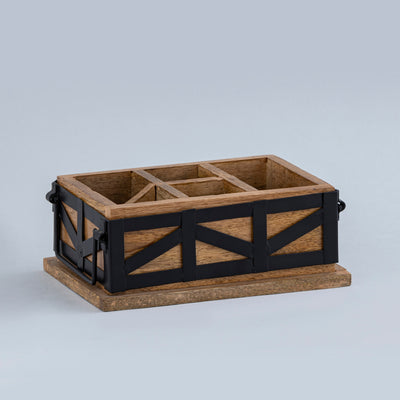 Another clutter-free accessory to have in a kitchen is this organizer. Staying true to meaning, this collects and holds spoons, ladles, spatulas, and many tools that are crucial in preparing a savoring meal. The smooth wooden organizer allows you to be flexible with the types of items that can be stored. This accessory surely holds an impact being the natural element amongst other modern kitchenware.
11. Brass Plates Steel Baskets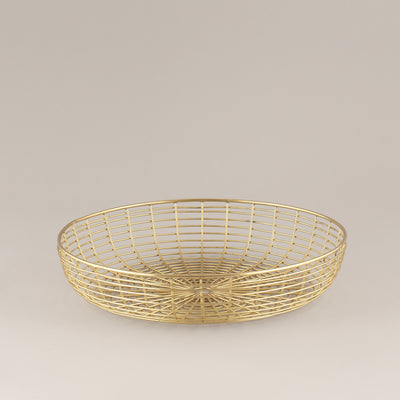 A true management item that saves a great deal of aftermath for many minute aspects of the organization or rinsing such ingredients during the cooking process. This is made of steel with a brass finish that gives a mild presentation amongst the colorful items in your kitchen. This is helpful in cleaning or rinsing the fruits before making a salad or veggies before cooking them. This kitchen accessory is durable and be used to hold napkins or a set of tissues. The need for this more ergonomic for those whose diet includes a staple set of veggies that are need not be stored in any refrigerator.
12. Multi-purpose Iron Basket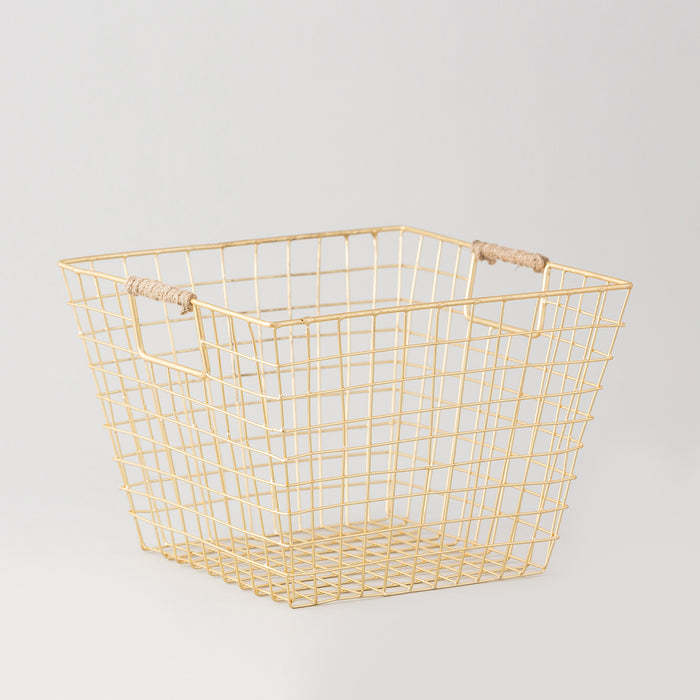 If your kitchen decor or the space cannot take in the rack to arrange a set of utensils or troughs, then an accessory that moves hassle-free is recommended. This basket is made of iron with a brass plated finish and has the potential and space to take in the utensils or any other extra kitchen tools. It also stores the fresh bought-in groceries that actually evade the extra task of keeping up with the ledger. All it takes is a considerable number of items and small space to be purposeful. 
13. Round Wooden Basket
If your recipe includes some seasoned liquids like vinegar, chicken broth, or some other specific sodas and even a shot of wine to get you the desired meal, these twins shall be a good associate in holding those bottles. Some bottles don't require to be in the fridge or concealed in racks if these are to be used frequently, then these baskets are made with fine wood with a rustic metal wire frame is apt as the shape of the baskets complements the shapes of the bottles. This stays as a personal touch both amongst the regular kitchen decor and bearing associated with ingredients. 
14. Handwoven Green Baskets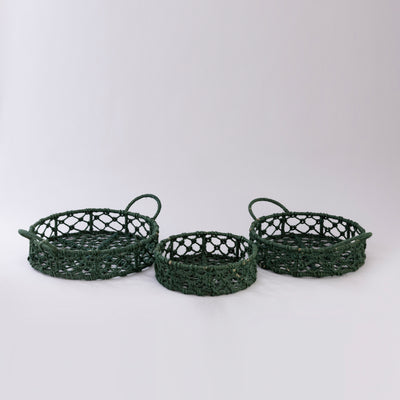 These triplets are made of rattan with a see-through design is more of a decor item in its look but the way to put to use makes it a diligent kitchen accessory to have. A need or a desire to try certain cuisines brings about some tools into the kitchen. Certain packs of commercial pulses, spices, fruits, or veggies need some sensitive storage boxes and this set can be apt. If these are not used for any of such purposes, then hang them over the kitchen wall like it is spread out, so to give a decorative texture to the kitchen room.
15. Pineapple Shaped Chopping Board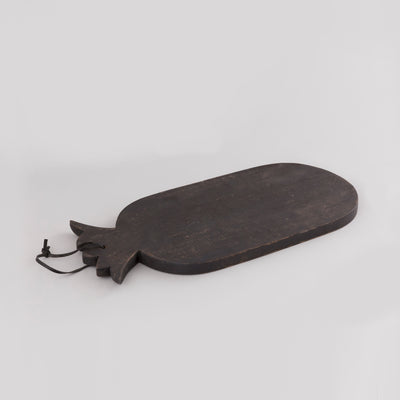 Made of mango wood in a pineapple shape exactly blends within the atmosphere of the kitchen. The natural design though small compared to other tools accumulates in setting the purposeful ethos of the room. The smooth texture of the wood also takes the form of a platter server. Hang it on the wall arranged with other accessories to transform your regular kitchen into a well-designed room of functionality. 
16. Marble Chopping Board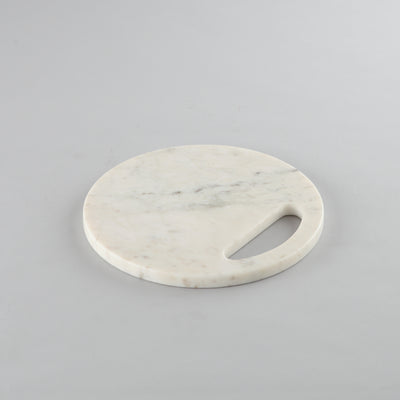 Another chopping board that has its own weight to present amongst other tools and the smooth marble design has an impact of a decor item based on the look. We know the general uses of a chopping board yet a unique design and texture makes it specific. This is made of white marble making it a contemporary piece in presentation. It is a durable piece and a sigh of relief amongst different colored tools.
17.Shelf Golden Iron Rack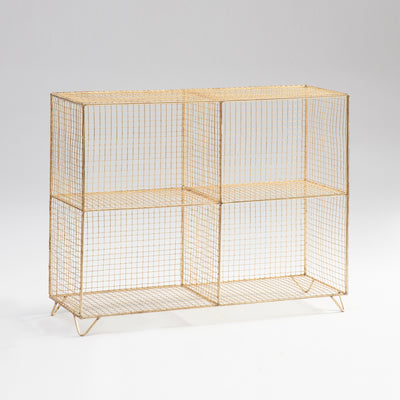 A glimpse of this rack solves the issue of how to arrange stuff in the kitchen. A simple yet strong rack stores items of various sizes, measures, and types. The light-colored see-through body gives away the colors of the items and makes it easy to identify them. The spacious racks take in utensils of big size and that clears a lot of clutter in the kitchen room. Store in some of the recipe books to flip the pages once in a while, and the upper part too has the strength and area to bear some stuff relating to the kitchen. 
18. Trendy Iron Stool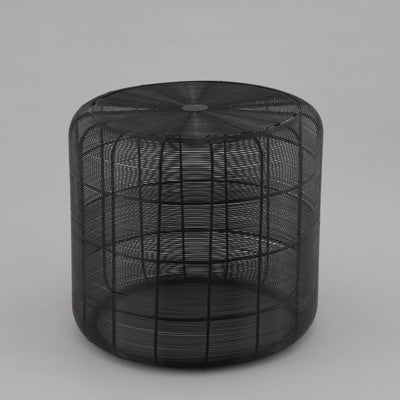 The most recommended and ergonomic tool is a stool which helps a person cook the food in a relaxed position. Sometimes the process of cooking certain recipes takes a toll on the body due to staying long at the simmer. The stool gives comfort and flexibility to sprint at the item to cook properly. The black texture does fit the kitchen room due to its contemporary design.
19. Wooden Cake Stand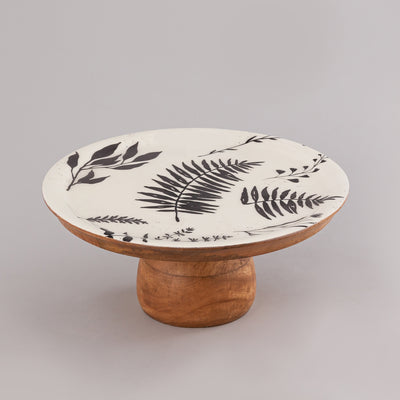 Apart from being the boastful presenter of a cake or any other recipe, what kind of significance does a cake stand present? The answer lies in your radical or creative way of using it. For now, let's look at the two ways to use it; one is to put a flower, plant, or herb vase on it if you have one to set the standard apart, and the other way is to keep it right next to the kitchen sink to bear the cleansing tools like dish wash bars, soaps, and etc. There's no right way until we make one work for our comfort.
20. Blue Leaf Art Wall Decor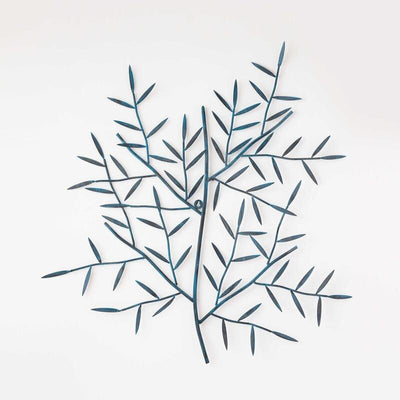 A kitchen is not devoid of any wall decor. This iron-made decor piece with a blue-coated finish adds a stylish touch to the kitchen. It is a presentation to address the kitchen too is a room that needs a touch of elegance though mostly associated with functional aspects. It cna seen as a few of those items that set the mind calm before committing to any time-taking tasks as cooking belongs to such. 
Conclusion
It is some fresh and new recipes depend on the right set of mind, environment, and decor. So, get along with the ideas and implement some of these to infuse personality and practicality into your kitchen this year. 
FAQs:
What to put in a small kitchen space?
Make a list of the frequent recipes that are your daily part of life.

Mostly keep all the stuff stored in racks and don't leave it on the basic platforms.

Use small accessories and give each its own importance.

If you have a dining area, leave some cutlery, tumblers, and serving plates nicely arranged on the table.

Try to leave the refrigerator out of the kitchen to secure more space.
How can I make my small kitchen look expensive?
There are certain tools that look expensive and such ideas can be evoked just by the insertion of some ambient oozing tools like contemporary lamps, hanging chopping boards made of natural wood, hassle-free baskets made of peculiar materials, and so on as such can render the feeling. 
What Colour kitchen looks expensive?
The combination of creams, beiges, grey, and black looks more expensive and more luxuriously appealing.