10 Best Corporate gifting ideas for Diwali 2023
Introduction
Since we are discussing the corporation giving out gifts to the employees, clients, and others that are integral for the growth of the company, festivals like Diwali have a great significance not only based on the huge numbers celebrating but also philosophically, marks a moment to show the admiration and wish for prosperity. The re-affirmation of the relation and the importance is presented in the disguise of the gift, and what can be a more auspicious occasion than a festival that has its own set of analogies relating to the triumph of good over evil or light over the darkness which ultimately advocates growth and prosperity.
"A  gift is an expression of a wish and admiration that embodies a tangible figure that is cherished both by the giver and the recipient"
Need for corporate gifting during Diwali
It is a token of appreciation and admiration for the service of the employees.

The gifting during a festival acknowledges the company takes into account the culture and tradition of the country to express the domicile sentiments to the stakeholders.

As festivals are symbols of growth and prosperity, corporate gifting instills its wish for the employees', clients', and stakeholders' growth.

It is to make a statement that the company is always a step ahead in recognizing the true workmanship of any employee during events like these.

Certain celebrations like Diwali express a notion of togetherness and family establishing an intangible connection by gifting tangible items and so on.
Unique corporate Diwali gifting ideas for employees, clients, and customers
Let's look at the items that are gift material and a few creative ones to gift that exude the essence of the festival.
1. 2-Tier Diya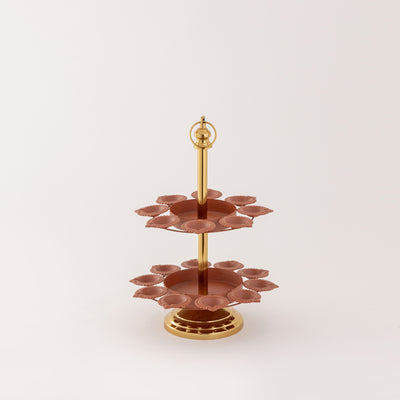 What can be a more apt gift item than the one that echoes the moment? Festivals adhere to basic human sentiments, and the auspicious elements are brought to sustain such holiness into houses or workspaces. A gift of traditional and cultural importance is a must to present to let them understand how much you value emotions and sentiments, which are in most cases termed as strengths. So, this 2-tier diya during the festive season and so on forth the first to light up the day offering basic godly oblations is something peculiar to cherish. This is an iron made with gold plated and terracotta finish wishing prosperity and the shine of the grace to bestow upon to whom it is gifted.
2. Enamalled Etch Diyas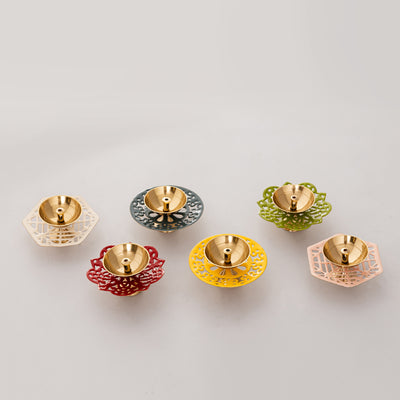 Well,  you can amp up your gifting options as the Festival of Lights demands plurality in diffusing the brightness. While the crackers just flicker intensely for quite a few moments and require constant action to enliven the dark sky with different colors, Diyas like these hold the area in its ambiance for quite some time. These are enamel etched made of brass with different colored fine polish which are quite tempting to present in the living room. A true gift that echoes the intention of well-being, moment, and a chance to light up the recipient's decor.
3. Bone Multipurpose Trunk Box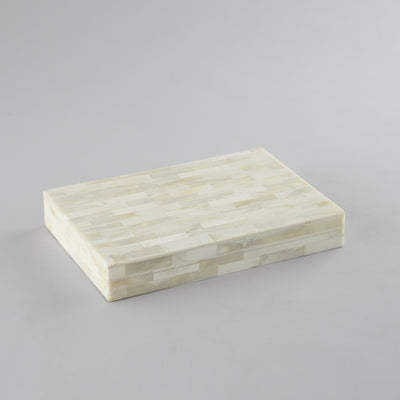 Boxes have been a staple of gifting items on different occasions. Only the distinctness of the shape, size, and color brings a sense of variety. Boxes are gifted or offered as a token of appreciation or as a reward at the billing section, but some boxes will be etched in the memory of the moment it is gifted and the peculiarity it offers. Such as the box that is made of bone with a smokey white finish. The look itself presents a corporate idea for the lack of too much sophistication by sticking only to the purposeful aspect of it like, storing jewelry, medicines, or stationery items. 
4. Golden Two-in-One Bowl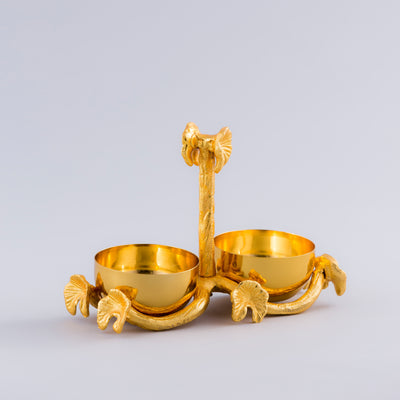 Another gift item that aptly suits to present during a festival is a set of bowls to store stuff related to any holy or ritual performance are these twins. It is a known fact that festivals are a type of reunion of friends, family, and well-wishes offering prayers and marking relevance to religious and spiritual beliefs. A pooja set made of aluminum and steel with a brass finish is a must-have addition to store auspicious ingredients like sindoor and turmeric. So, a gift of such sort marks an impression of exchanging the energy of the grace to prosper.
5. Antique Brass Chowki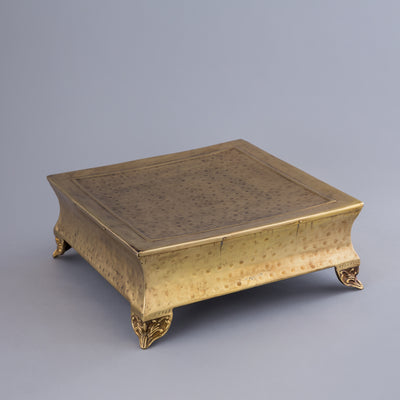 Not exaggerating but the recipient shall feel it an equal to a boon rather than just a gifted item. An accessory like this is mandatory for those who value these auspicious festivals bringing prosperity and growth into their lives. A gift such as this flags the relation and their existence boastingly enough as the 'Chowki' is placed in a crucial part of the house which is the Pooja room from where the grace is bestowed upon the whole. This square-shaped object made of brass with antique aesthetics shall be a perfect gift to your special clients.
6. Double-Layered Trunk Box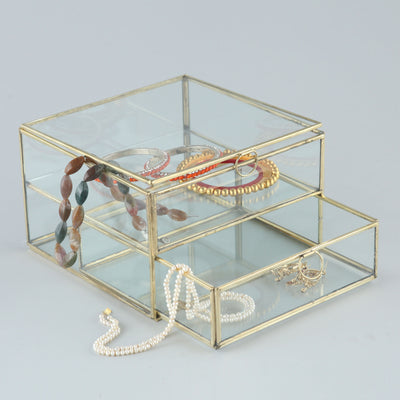 Sure a festive season is of many things to organize or buying new things that are apt for the ceremony and storing them appropriately is a careful task. This is a multipurpose functionality double-layered trunk box made of brass with see-through features. A gift like this is functional and pretty rememberable to whom it is gifted as it shall be an associate storing the recipient's valuable items jewelry and others. It is not so sophisticatedly designed but not a mere spectator item.
7. Office Table Organizer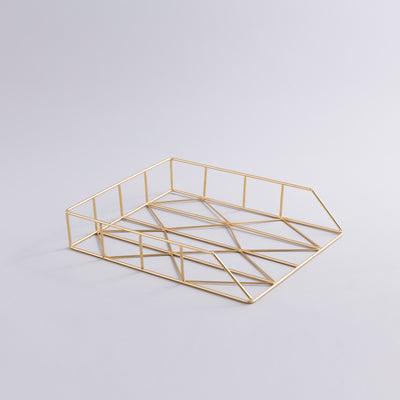 Wanted to gift that is relevant to work or feeling obliged for those employees working at home? What can be a more functional item to gift for those serving for the establishment or company than this? This is a stylish side-loading table organizer made of iron with a brass finish that ensures your employees' desks clutter-free. Make a sensible gift for this festival that can even be work-related yet the color brass is mostly connected to some cultural values in this sub-continent. It is both a wish and a reminder of many sorts that keeps us mindful of corporate relationships.
8. Geometric Round Table Top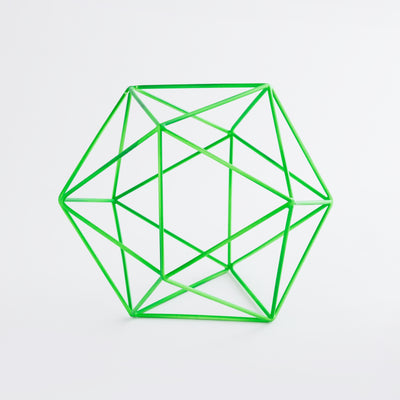 Not every gift means to be functional to whom we offer, sometimes gifts can be a token of our basic existence, identity, and choice too, but surely a token of admiration and value to the relationship in respective virtues. These gifts are presented to those the company hopes to have a further relationship with or just like coming up with secret clubs of no monikers to bounce off some conversations. Such as this icosahedron-shaped green decorative table stand made of iron can surely be a gift for those to keep as a souvenir and think of how you have occurred on this idea of gifting.
9. Earthy Brown Flower-vase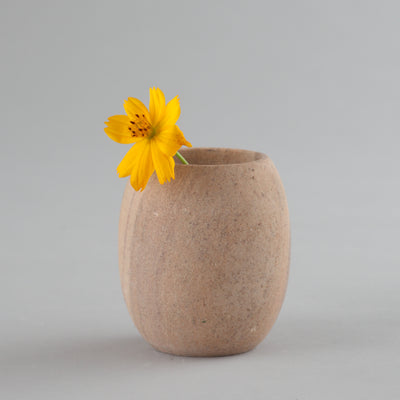 The celebration during a festival is driven by a hinge of growth, happiness, and overall prosperity. The gift need not be associated with the exact spitting tangible aspects of the festivals, the essence is the driving factor. Such as the essence held by this vase, the emanating essence is the growth of life if planted, the beautiful scent emanating flowers, an overall life blooming element. This earthly vase can be a perfect gift hoping for growth and prosperity to hand out to your employees or clients.
10. Aluminum Decorative Stand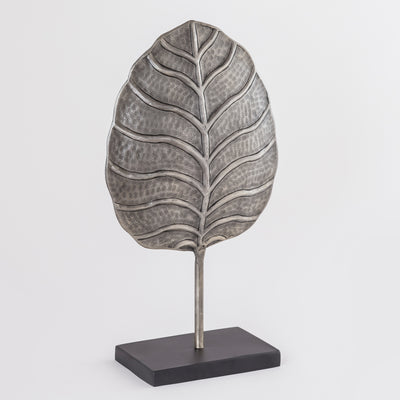 A gift can be this that oozes the element though not within the natural parameters in design. A true showpiece can be a desired gift by a recipient that holds an impact when presented along with other decor items. What can be more effective than this silver-plated aluminum leat-shaped classy stand with an antique touch that amps up the interiors? A gift can present many analogies or allegories based on the occasion, but a nature-inspired design always puts forward the idea of growth, prosperity, and mostly liveliness. 
Conclusion
Every item above is of a special design though, but a simple wish for happiness and prosperity takes over any contemporary or traditional design. Choose a token that represents your need to gift.
FAQs:
1. What is the best gift for employees on Diwali?
Best gifts are those that have the essence of hoping for happiness, growth, and prosperity. Some can be adhering to the corporate culture but it is very important to acknowledge the aspects of the respective festivals and ensure that the gifts resemble such qualities.
2. What brings good luck during Diwali?
A determined prayer and a set of oblations offered to the goddess Laxmi and lord Ganesha based on the festival a mandatory ritual to welcome grace and luck into our lives. 

Set the home's environment as a divine abode with lit Diyas all across the house. 

A great hospitality to the visitors and their wishes also brings good things.

The respective reciting of hymns too believed to bring luck and fortune. 
3. How to celebrate Diwali in a company
Light up the interiors with diyas setting some traditional standards within the contours of the company. 

Induce some ethnic ware for a traditional party. 

The inevitable distribution of sweets or recipes is not a missable aspect.

Hold the big crackers squad afar of the company so as not to crack any infrastructure

.